ONLINE SIMULATION TRAINING
Praxis delivers online simulation training that accelerates learning and improves knowledge retention with a custom blend of methodology, technology, and collaboration.

Experience-based learning is the most effective way to acquire critical assessment and decision-making skills. Praxis offers realistic, hands-on learning with a wide variety of lasting benefits. Questions? visit our FAQ page.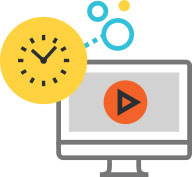 Use Praxis anytime, and anywhere a high-speed Internet connection is available

Originally developed for first responders and emergency management personnel, Praxis has evolved to serve nearly every industry, including social services, geosciences, financial and community planning sectors. Praxis has guided Canadian provincial and federal government departments through worst-case health and public safety scenarios. Praxis also helped prepared public safety officials prior to the 2010 Vancouver Olympic Winter Games.

Bring critical incidents to life in a safe and controlled environment

Praxis enables organizations to create problem-based scenarios with a mix of multi-media and digital technologies. Replicate the stresses and pressures of a real-life situation, which can be too dangerous to acquire on the job or through operational training exercises.

Flexible simulation design also supports more realistic, customized scenarios. Participants can have the same or different job functions, depending on the scenario. In a corporate continuity planning exercise, for example, participants could be assigned roles to match their company or department responsibilities. In a natural disaster scenario that requires multi-agency collaboration, a mix of first responders, government and industry workers may be more appropriate.

Realistically model unfolding incidents that respond to learner actions

Developing and delivering Praxis simulation training exercises is simple, intuitive, flexible and fast.

Subject Matter Experts (SME) can easily design, build, adapt and deliver relevant exercises that test team knowledge and responsiveness, without constraining their choice of actions. Praxis enables SMEs to add information (called "injects") that participants must respond to within a specific time frame. Participants' decisions determine what unfolds next, emulating the real-life consequences of team choices in a consequence-free environment.

Develop team skills required to manage the stress and complexities of a major event

Praxis is a synchronous system, so participants within and across the simulation can interact both with each other, and with the SMEs who deliver the injects. Individuals and teams use critical thinking skills to apply theories, policies, procedures, standards, facts and previous experiences when they reach challenging decision points – replicating the decision-making environment participants would encounter during actual events or critical incidents.

Instil a deeper conceptual understanding of complex, dynamic processes

The debriefing phase is a critical part of every Praxis training simulation, where facilitated discussions lead to reflective learning. All participants' questions and decisions are captured in a time stamped database, documenting the process and flow of content in a chronological order. Participants can be brought together, either online or in-person, to review their decisions and learn from their decisions in a safe, consequence-free environment.

Any organization, institution or industry that relies on top team performance and resource management can realize significant benefits from Praxis. We would be happy to discuss your needs or provide a no-obligation demonstration.
Book a Demonstration
We would be pleased to show you Praxis
in action with a free, no-obligation demonstration.